Play

Play Next

Add to queue
Play

Play Next

Add to queue

16,438 plays

Play

Play Next

Add to queue

10,470 plays

Play

Play Next

Add to queue

5,195 plays
Genre: Grime / Hardcore / Rap

Location LINCOLN PARK, Michigan, US

Profile Views: 38332

Last Login: 2/22/2011

Member Since 10/30/2005

Website www.myspace.com/killyourselfproductionz

Record Label Kill Yourself Productionz

Type of Label Indie

Bio

Demonic started out in the rap game in 1999, as one of the original three members of Troubled Mindz and co-founder of Murder House Records. Troubled Mindz recorded their first album in February of 2000, which they named Faces of Evil. The album was never released, and only 15 copies were made. In early 2001, Troubled Mindz began to record their first full-length album, Evil Intentionz. This album took over three years to record. The group recorded sixteen songs, which they later scraped for the tracks that now comprise Evil Intentionz. The original Hell on Earth took place in 2003 at Hot Rocks in Warren, Michigan. The venue and the employees sucked, but Troubled Mindz performed their first live show that night. The group's next show was in December of 2003, when they opened up for Dysfunktional Phamily and Toxsick. The show was a huge success and after this, Troubled Mindz began performing regularly in the Downriver/Greater Detroit area. Evil Intentionz was released on December 9, 2004 at the Dismembered in December show at the I-Rock in Detroit. This show was the last at which Demonic played as an official member of Troubled Mindz. Demonic parted ways with Wicked K and Toxzik, wanting to try solo stuff. The decision was mutual among the members, and the three still perform and work together. Demonic performed his first solo concert in August of 2005 at Hell on Earth in Lincoln Park, Michigan. His first solo release, Homesick Volume 1, was released on June 6, 2006. The eight song e.p. features Big K and Stitchez from Mental Ward, TC and C Pop'n from NDC, Downriver Rat, PG-13 and J Outlaw from Wolfpact Nation, GMac and Wayne Dub. Between 2006 and 2008, Demonic contributed to Lyssa Cer's Murder Scene Queen, the SKR Mixtape, and collabs with artists such as Sapo the Slasher, and member of MHR. In August of 2008, Demonic left Murder House Records, and became a full time member of Kill Yourself Productions. Also in August, Demonic released a free four song e.p. with Lyssa Cer and TC, titled We Ain't Dead Yet. The e.p. also featured C Pop'n from N.D.C., and SKR's Sicktanick and Razakel. Demonic is currently working on Rebirth of the Devil, and is planning a late 2008-early 2009 release..... .. .. .. ...... .. .. .. ...... ...... ...... .. .. ...... ..

Members

.. .. ...... .. ...... .. .. ....album.... ....price.... ........ .. .. ......DEMONIC..: Homesick Volume:1.... ....$7.50.... .... .. ..0.. ..1.. ..2.. ..3.. ..4.. ..5.. ..6.. ..7.. ..8.. ..9.. .. .... .. .. ....Choose how many, and click ...... .. .. ....Orders sent by .. ..CD Baby.... - the fastest, safest, and easiest place to buy CDs online. You can also call 1-800-BUY-MY-CD to order by phone..... .. ........ .... .... .."KYP".... .. ...... ...... ...... ...... ...... ...... ...... ...... .. .. .. .."SKR".... ...... ...... ...... ...... ...... ...... ...... ...... .. ..

Influences

ICP, Twiztid, House of Krazees, Bedlam, 3 6 Mafia, Tech N9ne, Brotha Lynch Hung

Sounds Like

That stab em, cut em, kill em, grill em shit
No recent updates in this category.
Why not...
Bio:
Demonic started out in the rap game in 1999, as one of the original three members of Troubled Mindz and co-founder of Murder House Records. Troubled Mindz recorded their first album in February of 2000, which they named Faces of Evil. The album was never released, and only 15 copies were made. In early 2001, Troubled Mindz began to record their first full-length album, Evil Intentionz. This album took over three years to record. The group recorded sixteen songs, which they later scraped for the tracks that now comprise Evil Intentionz. The original Hell on Earth took place in 2003 at Hot Rocks in Warren, Michigan. The venue and the employees sucked, but Troubled Mindz performed their first live show that night. The group's next show was in December of 2003, when they opened up for Dysfunktional Phamily and Toxsick. The show was a huge success and after this, Troubled Mindz began performing regularly in the Downriver/Greater Detroit area. Evil Intentionz was released on December 9, 2004 at the Dismembered in December show at the I-Rock in Detroit. This show was the last at which Demonic played as an official member of Troubled Mindz. Demonic parted ways with Wicked K and Toxzik, wanting to try solo stuff. The decision was mutual among the members, and the three still perform and work together. Demonic performed his first solo concert in August of 2005 at Hell on Earth in Lincoln Park, Michigan. His first solo release, Homesick Volume 1, was released on June 6, 2006. The eight song e.p. features Big K and Stitchez from Mental Ward, TC and C Pop'n from NDC, Downriver Rat, PG-13 and J Outlaw from Wolfpact Nation, GMac and Wayne Dub. Between 2006 and 2008, Demonic contributed to Lyssa Cer's Murder Scene Queen, the SKR Mixtape, and collabs with artists such as Sapo the Slasher, and member of MHR. In August of 2008, Demonic left Murder House Records, and became a full time member of Kill Yourself Productions. Also in August, Demonic released a free four song e.p. with Lyssa Cer and TC, titled We Ain't Dead Yet. The e.p. also featured C Pop'n from N.D.C., and SKR's Sicktanick and Razakel. Demonic is currently working on Rebirth of the Devil, and is planning a late 2008-early 2009 release.
.. ..
.. ..
Member Since:
October 30, 2005
Members: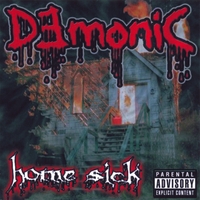 ..
album

price

DEMONIC: Homesick Volume:1

$7.50

Choose how many, and click ..

Orders sent by CD Baby - the fastest, safest, and easiest place to buy CDs online. You can also call 1-800-BUY-MY-CD to order by phone.
..
"KYP"



"SKR"



Influences:
ICP, Twiztid, House of Krazees, Bedlam, 3 6 Mafia, Tech N9ne, Brotha Lynch Hung
Sounds Like:
That stab em, cut em, kill em, grill em shit
Record Label:
Kill Yourself Productionz