No recent updates in this category.
Why not...
jimi yamagishi hasn't earned any badges yet... have you?
General

I'm here to help musicians make a difference & find their maximum potential. If you ask the friends that keep adding onto my list, most will tell ya that. So I'm interested in helping YOU. I also love t' cook, play guitar, record, build guitars & VW's (aircooled), do anything creative, write songs, produce, eat, & hava good time hangin' with my wife & kids...so why the heck am I wasting time here?!!!

Music

Movies

Television

Books

Green eggs & ham is a classic that says it all. It's a tome about tolerance, evangelism, artistry, creativity, persistence, marketing, globalization, & cuisine all at once! It's also the roots of rap & I refer to it often.

Heroes

Might be you. So live right & without regrets. :)
About me:
My music is posted @
www.myspace.com/mtnbch
Mountain Beach Enterprises. Meet my friends. Read my blog. Listen to my music. Eat some musubi. If you still don't get it, email me. I'll give you the full story. You can also hit my "official" site:
www.jimiyamagishi.com
. Because so many of my band friends were starting to post INSANELY HUGE HTML gigflyers on my comments, I had to block that stuff...as much as I wanted to keep it on. You can post that to any of my other pages, but I just have too many friends here now & it really slows access down. Please don't be offended, you're welcome to leave text okay? :)
Katie & Jimi pic by Paul Franco
Rockin' the 'Stick 022309
photo by Paul Franco
w/Pauline Williams youtube.com/pspauline pic:Paul Franco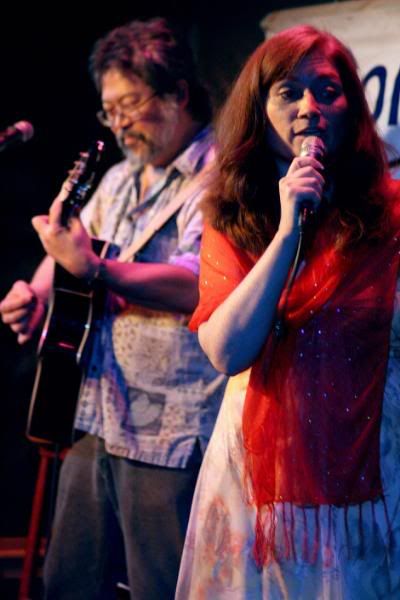 Who I'd like to meet:
if yur into guitars, music, aircooled VW's ('specially type II's) good food & interesting stuff, I'm there. & if you're a musician that understands that if you stop learning you must be dead, I can help you move forward. If you're a kind, generous, loving & caring person that will throw millions of dollars at me so I can keep helping others, that would also be nice. Even without the money.
Status:

Married

Here for:

Networking, Friends

Hometown:

is okay but any buffet is fine!

Orientation:

Straight

Religion:

Christian - other

Zodiac Sign:

Pisces

Children:

Proud parent

Smoke:

No

Occupation:

constantly