Play

Play Next

Add to queue
Play

Play Next

Add to queue

30,761 plays

Play

Play Next

Add to queue

29,572 plays

Play

Play Next

Add to queue

34,652 plays

Play

Play Next

Add to queue

22,500 plays

Play

Play Next

Add to queue

2,036 plays
03:46 | 1598 plays | Apr 16 2011
Romance is a Seattle based indie post-punk band that creates a sound that is at once familiar and strikingly fresh. Their music blends dark, catchy and epic songs with an intelligent and unique ideology.

Forming in 2006, ROMANCE struck a nerve with music fans. KEXP, one of the nations best independent radio stations, quickly jumped on the bands debut EP,

"

WHEN THINGS ARE BETTER", putting it in regular rotation. Led by their single "Paris Is Burning" this was soon followed by many independent radio stations. Readers of THE STRANGER, Seattle's premier music and arts weekly, voted ROMANCE one of the top four up and coming bands in the city.

In 2008 Romance had a line up change with the addition of new drummer Joshua Fant (ex-Post Stardom Depression). They released their debut full length album "The Divide" in 2009 and it quickly climbed to number one on the NorthWest music charts for KEXP. The single "Face On The Sun" was also chosen as the song of the day on KEXP. "The Divide" went on to chart on many independent radio stations.

Romance has toured extensively and have played many high profile gigs, including opening for Sisters Of Mercy and playing the SXSW and Bumbershoot festivals.


ROMANCE has 58893 friends.
No recent updates in this category.
Why not...
e-mail: info@romancetheband





Debut full length CD "The Divide" 2009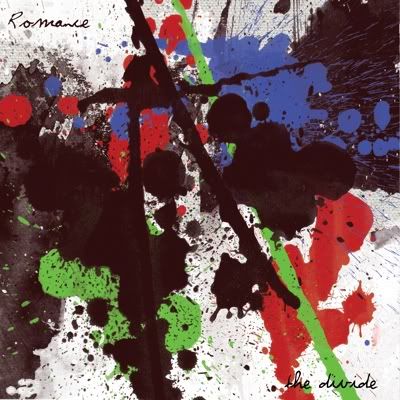 Now only $6

CLICK HERE to purchase "The Divide"

Also available on itunes.



Tracklist 1. Give Them What They Want
2. Face On The Sun
3. Killer In The World
4. Waiting By The Ocean
5. Futurewave
6. Still Alive
7. Paris Is Burning 2009
8. The Order
9. Twentytwelve
10. Pillars
11. Automatik ________________________________________________



'When Things Are Better" EP 2006


Available on itunes.



Tracklist 1. Paris Is Burning 2006
2. Automatique
3. Guiltless
4. Prima Nocturne
5. The Light
6. Don't Go Disco
7. Magazine Face
8. Thin-Lipped Wisdom

Drew Jackson - Vox, Guitar
Michael Ribagin - Bass
Joshua Fant- Drums
David Blake - Lead Guitar


Influences:

The Stranglers, Joy Division, The Cure, Bauhaus, the Chameleons, Gang of Four, Wire, Roxy Music, Echo and the Bunnymen, The Sound, Sisters of Mercy, The Fall, Magazine, The Comsat Angels,The Jam, The Smiths, Crispy Ambulance, A Certain Ratio, Pulp, The Damned, Devo, Siouxsie and the Banshees, New Order, David Bowie

Genre: Alternative / Indie / Post punk

Location Seattle, Washington, Un

Profile Views: 737165

Last Login: 3/1/2012

Member Since 10/16/2004

Website www.romancetheband.com

Type of Label Indie

Bio

Romance is a Seattle based ..indie post-punk band.. that creates a sound that is at once familiar and strikingly fresh. Their music blends dark, catchy and epic songs with an intelligent and unique ideology ..Romance "Killer in the World" music video off of "The Divide"........ .. .. .. .. .. .. .. .. .. .. ..________________________________________________...... ..Debut full length CD "The Divide" 2009. .... ...... .. .... ....Now only $6.... ..CLICK HERE to purchase "The Divide"........ Also available on itunes. .... ...... .... ..Tracklist.. ..1. Give Them What They Want.. 2. Face On The Sun.. 3. Killer In The World.. 4. Waiting By The Ocean.. 5. Futurewave.. 6. Still Alive.. 7. Paris Is Burning 2009.. 8. The Order.. 9. Twentytwelve.. 10. Pillars.. 11. Automatik .. .. ..________________________________________________.... ...... 'When Things Are Better" EP 2006.... ...... Available on itunes. .... ...... .... ..Tracklist.. ..1. Paris Is Burning 2006.. 2. Automatique.. 3. Guiltless.. 4. Prima Nocturne.. 5. The Light.. 6. Don't Go Disco.. 7. Magazine Face.. 8. Thin-Lipped Wisdom.. .. .. .. .. .. ..________________________________________________.... .. .... .. ............ ....

Members

e-mail: info@romancetheband.. www.facebook.com/Romancetheband Drew Jackson - Vox, Guitar.. Michael Ribagin - Bass.. Joshua Fant- Drums.. David Blake - Lead Guitar....

Influences

The Stranglers, Joy Division, The Cure, Bauhaus, the Chameleons, Gang of Four, Wire, Roxy Music, Echo and the Bunnymen, The Sound, Sisters of Mercy, The Fall, Magazine, The Comsat Angels,The Jam, The Smiths, Crispy Ambulance, A Certain Ratio, Pulp, The Damned, Devo, Siouxsie and the Banshees, New Order, David Bowie

Sounds Like

Joy Division, The Chameleons, The Sound, Echo And The Bunnymen, Interpol, The Editors, The Horrors